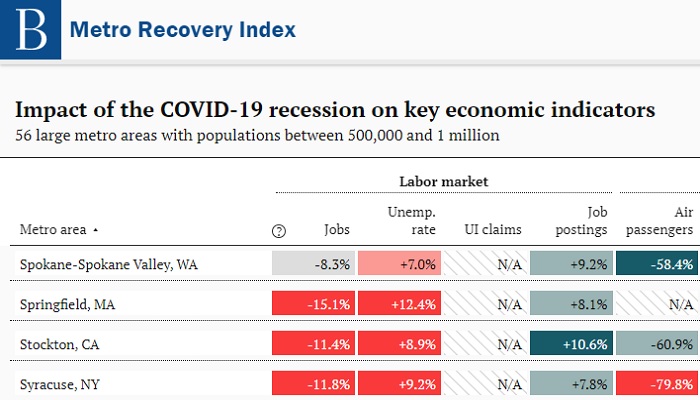 Brookings Institute: Metro Recovery Index
Measuring the impacts of the COVID-19 recession and the road to recovery differ widely across local economies
by Trends Staff
The Metro Recovery Index, offered by Brookings Institute, was created because the "…impacts of the COVID-19 recession and the road to recovery differ widely across local economies."
The Index presents this information in two different main views: "At a Glance" and a dashboard.
"At a Glance" offers a side-by-side view of metro areas with a similar population size. Filter by:
Recession Impact, using a pre-covid, or "pre-crisis" baseline.
Current Trajectory, using trends over the last month as baseline.
And by population sizes:
Very Large, more than 1 million, such as the Portland-Vancouver-Hillsboro, OR-WA and the Seattle-Tacoma-Bellevue, WA metro areas.
Large (between 500k & 1 million), such as the Spokane-Spokane Valley, WA and Boise, ID metro areas.
Midsized (250k-500k) such as the Kennewick-Richland, WA and the Olympia-Lacey-Tumwater, WA metro areas.
The Spokane-Spokane Valley, WA metro area, comprised of Pend Oreille County, Spokane County, and Stevens County, is considered a Large metro area based on the estimated population of just over 580,000.
The dashboard is located below the "At a Glance" section. Here, select from the same metro areas, but the key economic indicators provide much greater detail than the side-by-side comparison in the "At a Glance" view. The dashboard also shows very recent data, such as each month of 2020, or over the six previous quarters.
Key economic indicators used in the Brookings Metro Recovery Index:
By Labor Market aspects (number of jobs, unemployment rate, weekly unemployment claims, and unique job postings).
By Economic Activity aspects (number of passengers, mobility to workplaces, volume of hours worked at small businesses, and small business closings).
By Real Estate aspects (number of active listings, median list price, commercial property vacancies, and average rent paid at multi-family properties).