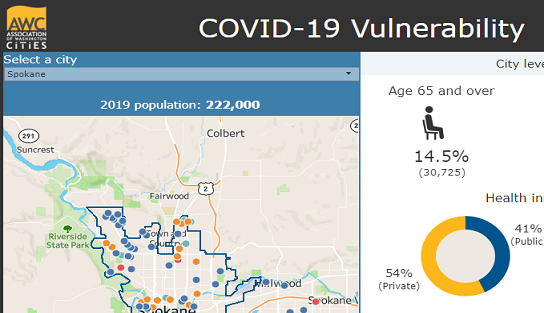 Vulnerability of Cities in Washington State to COVID-19 - Data Interactive by the Association of Washington Cities
by Trends Staff
As you can imagine, there are countless data interactives on COVID-19 – we've shared them as well and will continue to do so only if we believe they are helpful to spreading the facts to help you make informed decisions. Why are data interactives so helpful?
1) They allow you to get as much or as little information as you want in one place.
2) The information they provide can be obtained and absorbed quickly with the ability to dive deeper for those who want to.
A data interactive by the Association of Washington Cities does this by shedding light on the vulnerability of cities both large and small in Washington State.  
Based on known vulnerabilities (those who are ages 65+, diabetics, or smokers, etc.), the risk for each city is based on the unique demographics and characteristics of each city, showing the estimated total and share of the population for a variety of vulnerabilities.
In addition to vulnerabilities, it shows positive aspects, or where a city might be better prepared should a major outbreak occur locally. These include number of facilities and the beds they contain for nearby or local: hospitals, skilled nursing facilities, assisted living facilities, and adult family homes.
Other vulnerabilities include the total and share of the city population: with a disability, with health insurance, and the homeless population.
If you have friends or family living elsewhere across the state or find yourself in a must travel situation, you will likely find this interactive helpful and interesting.